Why you should consider an aircraft appraisal?
It has been said that "an airplane is worth what someone will pay for it." However, establishing a true market value should always be the beginning point of any transaction. The book value of an airplane simply does not address an individual airplane. The Certified Appraiser takes into account the airframe condition which is not included in any of the other methods of value determination and is an extremely important item in the final analysis of an airplanes value.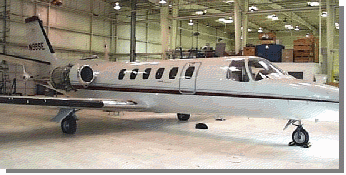 A prime example is when an owner decides to add avionics, paint, airframe modifications or interior. How does the residual value of the aircraft after the upgrade compare? The only sure way is to have an appraisal using its current configuration and then compare to an analysis after the upgrade. A certified appraiser can then show a comparative appraisal showing the final cost, expense, and value. Book values simply can not address these items with any accuracy.
The appraisal process helps:
To obtain a professional opinion of the present fair market value of a plane.
To obtain a professional opinion of the value of an airplane to be renovated or modified.
An expert opinion of the value of a plane is useful as a prudent safeguard against excessive tax assessments, capital gains, and other taxes.
Appraisals are used to verify damage claims resulting from fire, theft, hail, windstorms, accidents, and other disasters.
Appraisals may provide the basis for decision making in the commitment of funds for acquisition.
It provides persuasive independent evidence of the condition of an aircraft.
It helps support the selling price.
It assists the prospective buyer in obtaining financing or insurance.
It assists the financial institution by substantiating the nature and the value of an aircraft as it relates to collateral.
It assists the financial institution by supporting the loan portfolio for examination by loan committee and/or bank examiners.
It distinguishes seller's aircraft from others that may be listed for sale.
It reduces the time to sell an aircraft up to 50%.
An appraisal does not set the selling price for any plane or aircraft. Rather, it sets an opinion of value that may then be used as a solid base for negotiation.
Who needs or wants a certified appraisal ?
Appraisal analysis has value to anyone connected to any airplane's financial transaction. Sellers can assure the asking price is within the proper range. Buyers can assure the asking price is within reason based upon true market value for a specific airplane. Owners considering an upgrade or engine replacement can know what the true cost and value will be after the replacement. Anyone who is responsible for committing funds in the sale, purchase, financing. leasing, trade, or donation of a plane can benefit from an independent appraisal of the airplane involved.
What is the National Aircraft Appraisers Association ?
NAAA members provide a broad range of services to the aviation industry through its professional approach. to aircraft valuations. The NAAA is equipped to serve the lender, seller, or buyer needs through an extensive network of Certified Appraisers, a comprehensive data processing center and experienced Senior Appraisers. All field reports are reviewed and an analysis of a computer generated data report is reviewed prior to the final certification of an appraisal report. Each appraisal contains a minimum of seven pages of detailed information about the aircraft including: complete inventory, its engines, propellers, electronic equipment and systems, as well as other specialized equipment and systems. This is accomplished by a comprehensive review of the records and log books for compliance with FAA Airworthiness Directives, damage history, maintenance history, compliance with all applicable regulations and certifications. The NAAA and its members deliver a solid honest appraisal of any plane.
Tracy Ligon Consulting, a Member of the National Aircraft Appraisers Association, can deliver a certified appraisal on any aircraft. General Aviation, Homebuilt, and Helicopter data is all listed in the monthly NAAA computerized pricing data system.
Each appraisal is carefully delivered and over 200 items which can affect value are carefully analyzed. Each item is then checked over by a senior appraiser and placed into a computer program containing an extensive database of aviation information. Every appraisal is backed by data generated from over 15 years of experience in appraising aircraft. Our appraisals deliver an impartial opinion of the value of an aircraft analyzed and compiled by professionals familiar with the factors impacting the current behavior of the used market. This opinion is based on experience and repeated analysis of these factors which can be substantiated and justified by a recognized, certified, professional, aircraft appraiser.
So remember - When "Plane" value matters, call
The "Plane Appraiser"
Tracy Ligon Consulting